Personalized Solutions
Optimizing your CRM by Centering on you and your User
With our extensive Salesforce knowledge, we've got the CRM system down to a science. There's no mystery, we even detail our 4 stage approach of Discovery, Definition, Iteration, Implementation above on this page.
It doesn't matter what your goals are or where you're located. With a multicultural and multidisciplinary team working in multiple languages (English, Spanish, and Portuguese), we're confident in our ability to give you the support you need to optimize your business.
Every digital transformation is going to begin and end with the customer, and I can see that in the minds of every CEO I talk to."
Marc Benioff, Chairman and CO-CEO, Salesforce
Personalized Solutions
We are Certified Salesforce Partners
Our certified team of Salesforce professionals stays up to date with the newest versions of the CRM system so you'll never have to worry about falling behind. Combine this relevant experience with the efficiency of agile methodologies and you get a high-performance team ready to implement advanced solutions to increase your productivity.
Reliable Solutions
Our extensive knowledge of Salesforce is backed by years of experience, certifications, and numerous success stories with well-known clients.
Continuous Learning
Our highly trained teams are constantly updating their skills keeping up with the latest Salesforce releases and updates.
Integrations
We'll help you to integrate Salesforce with Veeva, Mailchimp, Zoom, and many other business tools, payment systems and e-commerce platforms.
Consulting Experience
Through our discovery sessions, we develop innovative solutions specifically tailored to our clients. No cookie-cutter solutions!
View our many certifications:
Personalized Solutions
Empowering our Clients Through Salesforce
Salesforce is a highly customizable platform that can be tailored to the needs of your business, allowing your company to adapt solutions to your specific goals.
Marketing Cloud
Experience Cloud
Service Cloud
Sales Cloud
Nonprofit Cloud
Health Cloud
Marketing Cloud
No templates here! We create a marketing strategy from scratch that's specifically suited to your needs. Whether you're looking for help with implementation or creating a complex campaign, we can help. By focusing on data management, automation, and personalized consulting, we're sure to find a solution that will make hitting your goals easier!
Experience Cloud
With our knowledge of Experience Cloud as well as our DNA as a User Experience firm, we are an ideal partner for your Experience Cloud implementation. We'll help you transform the way you bring information and tools to your partners, customers and/or employees through unique, purposeful, and SECURE experiences.
Nonprofit Cloud
We are experts in nonprofit organization implementations with Salesforce. With the help of Nonprofit Cloud and our expertise we can offer tailor-made solutions for your entire fundraising and membership management process in an agile and efficient way.
Service Cloud
We have experts in Service Cloud implementations with a great track record in customer service and care processes. Through an optimized client configuration and case control we help you create a 360-degree view of your clients which enables a better and more efficient level of customer service.
Sales Cloud
We help you boost your sales process. Our Sales Cloud experts can create a quick implementation that fits your business needs, boosting your generation of leads, accounts, contacts and closing opportunities quickly and efficiently.
Health Cloud
Salesforce Health Cloud enables a 360-degree view of your patient data, allowing better patient management in real time. We know how to efficiently implement the functionalities that Salesforce offers for Life Sciences and we also bring extensive Life Sciences industry expertise to the table through our sister brand, Tonic3 Life.
Frequently Asked Questions
What are the main features of Salesforce?

Some of the main features of Salesforce include sales automation, marketing automation, customer service and support, and analytics and reporting. Salesforce also offers a range of customization options, such as the ability to create custom fields and custom objects, build custom applications using the Salesforce platform, and integrate with other systems and tools.

How can Salesforce help my business?

Salesforce allows your businesses to store and track customer data—such as contact information, purchase history, and communication history—in a centralized database. This information can then be accessed and analyzed to gain insights into customer behavior and preferences to identify sales and marketing opportunities. With this data, the Salesforce platform can help you to improve customer relationships, increase sales, enhance marketing efforts, provide better customer service and support, and allow you to make more informed decisions.

How can I improve marketing efforts with Salesforce?

Salesforce's marketing automation tools allow you to launch targeted campaigns and track their effectiveness, so you can reach the right customers with the right messages at the right time.

How does Salesforce enhance decision-making?

Salesforce's analytics and reporting tools allow you to track key performance indicators—such as customer lifetime value and customer satisfaction—so you can make better, data-driven decisions that will promote business growth.

Is Salesforce easy to implement and use?

Salesforce is generally considered to be user-friendly and easy to implement. The platform offers a range of resources and support to help users get up to speed. However, the ease of implementation and use will depend on the specific needs and goals of your business, as well as your team's familiarity with CRM platforms and other related technologies.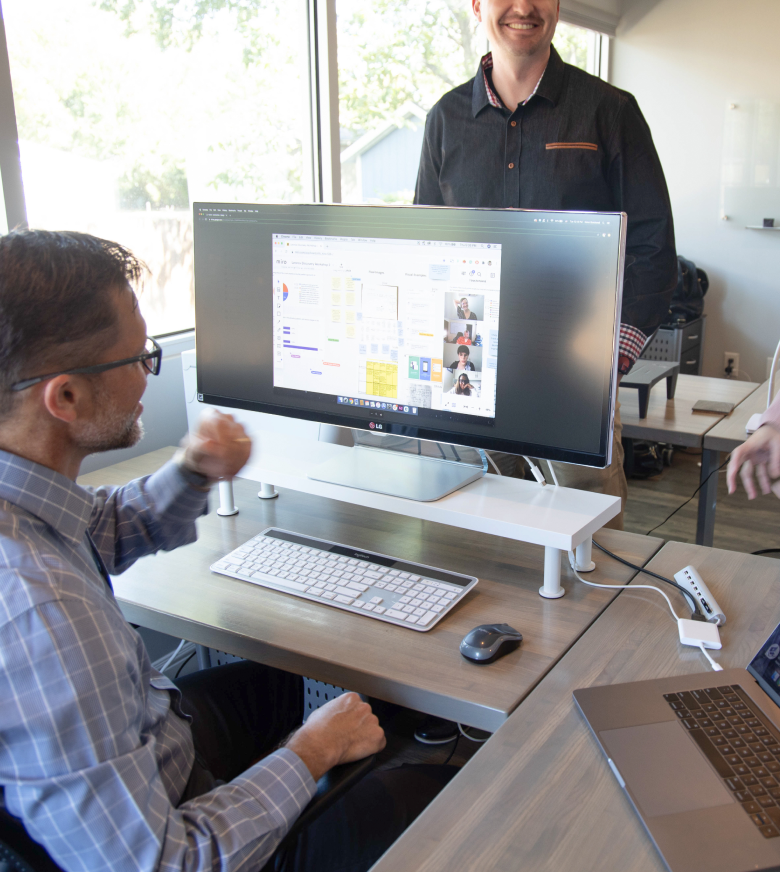 How can we help?
Other Tonic3 Services